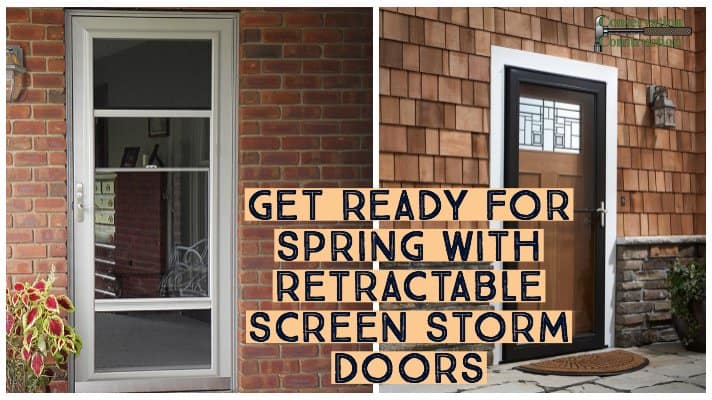 Having a Storm Door in your house is like being your very own real life magician. How is this? You can really astound yourself with these doors. Isn't that what magic is all about? So be prepared to be amazed with this next article.
But seriously. . .
Storm Doors are often overlooked. After all what is their real purpose? Other than the obvious of them protecting your front door from storms that may come-a-blowin, what alternate purposes do they have?
They have many in fact. Firstly, in summer time you can open your main front door to let all the natural light come through your storm door. These doors have superior locking mechanisms so you can get all the clear views without compromising safety. On top of this, our models include Doggie Doors for your pets if you wish to include them. This means your pet can come and go as they please without you having to constantly open the door.
Let's get to the real meat and potatoes of the article though.
Our Spectrum Storm Door comes with options of Retractable Screens doors too. This means that if you are wanting some extra ventilation in your home at any time of the year you can have it without compromising safety. Our exclusive top and bottom Invent retractable screen systems allows you more venting options than ever before. Retract from both the top and bottom. We made these screens easy to operate and lift as well, so you'll get functionality along with those breezes.
Another huge feature is our durable mesh screen system which is .023 gauge stainless steel for your protection and durability. Our storm door  wall of aluminum is 20% thicker than industry standards. All this adds up to extra protection for you.
Finally all our storm doors will improve your home's energy efficiency. Our solid insulated core will help with air infiltration, and our custom bottom sweep eliminates drafts. All of this adds up to big savings for you. Most people who install a new door see energy savings within the first month.
Finally, Spring is right around the corner and it's the best time to install a new storm door for this reason. You'll be able to let all the great smells of wildflowers into your home, keep track of your kids/pets, and get protection for your front door if April Showers come your way. All our products are backed by Lifetime Warranties so your storm door will last a lifetime.  
Be your own designer and create your door from the ground up. You can choose options including color, hardware, and even how the door operates. We'll be there with you step by step from the initial first free estimate through the installation. We stand behind our work and our customer's. Get the door of your dreams today.  
Hopefully if you are looking to replace your front door you will look to our entry door/storm door pairings here at Conservation Construction. We'd be happy to help you in any way. For more specs and information about our amazing products please feel free to visit us online here. We also sell top notch windows and siding. Thanks for reading and we'll see you next time.
Summary
Article Name
Retractable Screen Storm Doors
Description
These unique things make our storm doors superior to others on the market.
Author
Publisher Name
Conservation Construction
March 6, 2019
Categories: