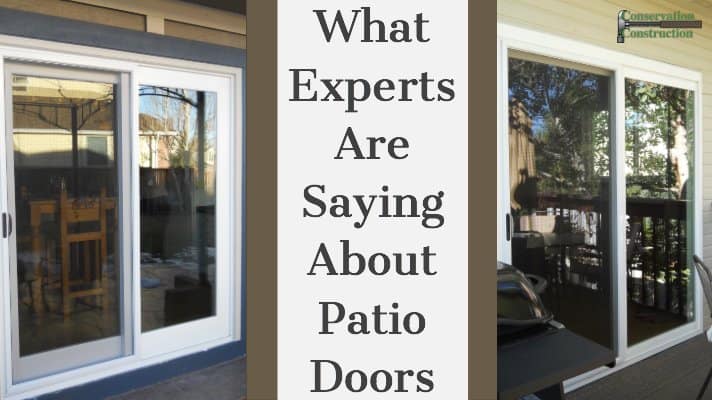 Window and door replacement is essential for optimal energy efficiency. Experts have been saying this for years. Yet all too often as homeowners, we let these things stay broken for years because this doesn't seem essential to our home. We often see that sliding glass doors are the last thing to get changed out in a house when they should be one of the first things to be switched out.
Why is this? They are essential for safety. Patio Doors are one of your first line of defenses against storms and potential break-ins. They should not be overlooked. Replacement Patio Doors are now easier to attain than ever before. Free in home consultations are always included when you inquire about a Sliding or French Door from Conservation Construction.
Our unique door styles for our Sliding Patio Doors make it easy to get all year round protection for your home and energy efficiency. The best part is that if you are looking at a home improvement project on a budget our replacement windows and doors are way less expensive than Renewal By Andersen Windows.
Another huge positive is our C5 Glass system which is so energy efficient it is practically unparalleled on the market. We make all of our glass right here in the state of Colorado. This means it's manufactured for our climate and it'll be the perfect fit for your home.
Our glass is also coated with a patented 12 Layer Formula that protects the glass from harmful UV Rays, Rain, Hail and any other extreme weather. Lastly our glass if filled a specialized Krypton/Argon Gas fill which ensures longevity of energy efficiency.  
Spring is right around the corner. Schedule an in home free estimate today and get new doors for spring season. You can have the highest quality door to let all those breezes into your home when the time is right.
Finally you'll be able to open your curtains all year round and let in all that gorgeous Colorado Sunlight. Our energy efficient patio doors will keep your room a more stable temperature and keep the harmful UV rays from bleaching the floor. Isn't that amazing?
So if you are looking at a replacement project why not start with the most important to you and your home–a Patio Door from Conservation Construction. Please contact us for your free estimate today, and make a big difference in your home. Savings on energy costs. Big Views.  Improvement in your Mood. You can visit us online here for more information about our other amazing products.
Summary
Article Name
What Experts Are Saying About Patio Doors
Description
Patio Doors are essential to keep your home safe. Read the article to see why else they could change your life.
Author
Publisher Name
Conservation Construction
March 11, 2019
Categories: