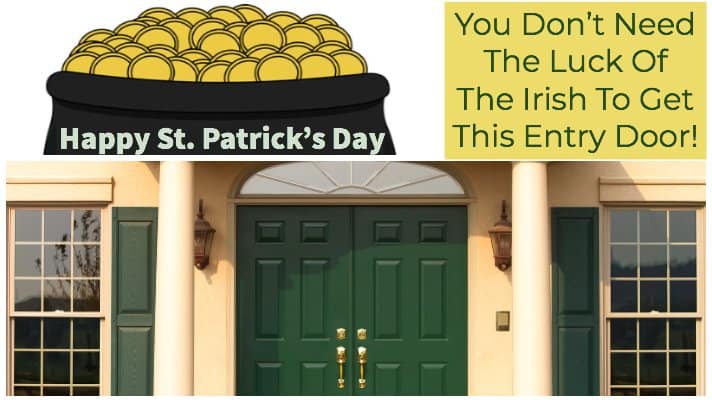 As St. Patrick's Day approaches it's easy to get caught up in shamrocks and the idea of "Luck"all around. Despite the fact that Leprechauns are in our midst, it doesn't mean
that we are more lucky than normal. It seems the Leprechauns keep all the luck to themselves. So instead of running around buying lottery tickets in the hope that you'll strike it rich and be able to put a pot of gold at the end of a rainbow, consider something else.
You don't need the luck of the Irish to get one of our amazing front doors. With top of the line designs and extreme energy efficiency, you'll get a door that is so beautiful you'll think you have all the luck in the world.
What is lucky about our door is that if you choose a front door from Conservation Construction you'll get extreme durability. You'll also get Lifetime Limited Warranties with any products from us. That's more durable that some feeling pot of gold at the end of a rainbow, wouldn't you agree?
Our doors are so unique it's like you found a one of a kind shamrock. In fact you can customize everything about your door from the embossing design, to hardware, to custom glass. That's not luck, that's just your creativity, and how cool is that? Design the door in green and try to get more luck that way. We won't stop you.
It wasn't luck either that we designed a door that is unparalleled on the market.  This door took a long time with special consideration and engineering to manufacture to topmost performance and beauty. Yes, this door didn't just happen by luck. You can count on a door that will provide protection from the elements and possible intruders.
In addition, our line of entry doors too are the most energy efficient on the market, truly. Our Embarq Door even won energy star partner of the year two years running. Each of our doors has an airtight seal, is foam filled from top to bottom and comes with a custom bottom sweet to prevent air infiltration. You can literally see and feel the difference!
Furthermore, unlike the pot of gold at the end of a rainbow which is fleeting our business stays put, and you always have somebody to turn to if anything ever goes wrong with your door. We pride ourselves on customer service and quality products that will stand the test of time.  
Finally it wasn't luck that you are reading this article today. You must have a need for a new entry door! This means you were trying to glean some important information before you purchased, and that's just smart! Hopefully you've learned a lot about entry doors today to know that luck is a thing you don't need with a front entry door purchase. All you need is a telephone or the internet (which I know you have because you're reading this door article now). Call us today or go online for your free quote on a new front door.
See the difference right before your eyes with Conservation Construction and a new entry door–no "Good Luck" needed.
Summary
Article Name
You Don't Need Luck To Get This Entry Door
Description
Author
Publisher Name
Conservation Construction
March 15, 2019
Categories: